This Easter Cheesecake Cake will be a hit! This simple but stunning cake is made with white chocolate buttercream and smooth white chocolate cheesecake.
This is a great Easter dessert recipe that you can make for Easter brunch, or to add sweetness to your Easter dinner. Easter Poke CakeOr Easter Chocolate Lasagna, too.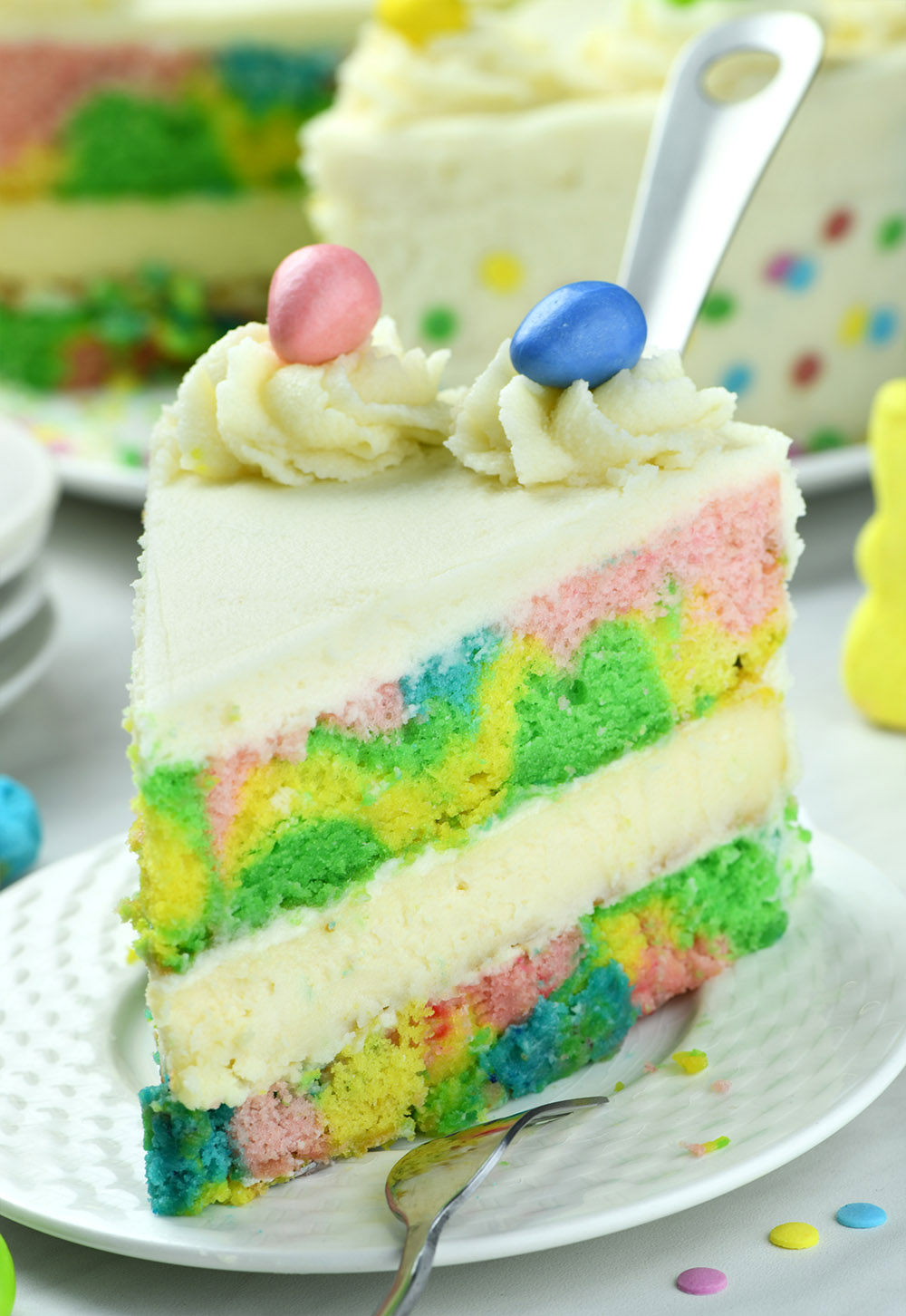 White Chocolate Cheesecake Cake
Every occasion is more memorable when it includes cake. Easter is no exception. This cake is great for any family member who likes layer cakes or cheesecakes. This Easter, make a show-stopping cake!
This cake is a simple project that requires only a box of cake mix. You can make your cake more fun by using Easter candies and pastel colors.
White chocolate cheesecake layer is also very simple to make, there's no need for water bath. It's just a simple mixture of cream cheese, sugar, eggs, corn starch and melted white chocolate baked in less than an hour.
Layers of colourful and moist cake are topped with cheesecake and a delicious white chocolate buttercream.
This sweet treat will sweeten your Easter celebration and is a lovely way to end your Easter meal.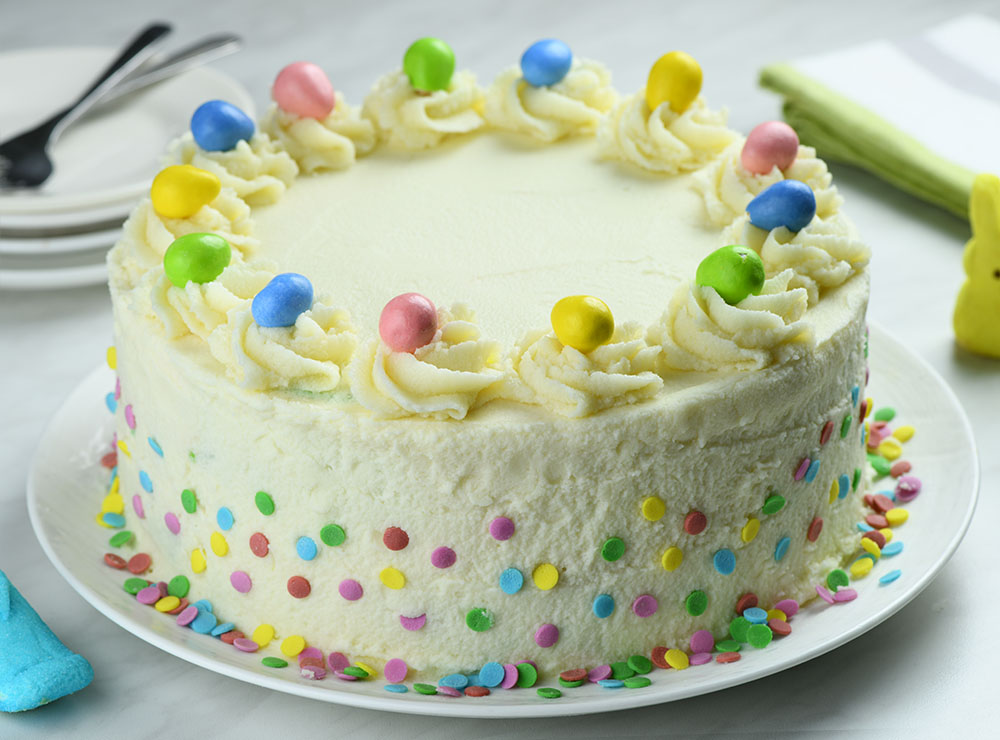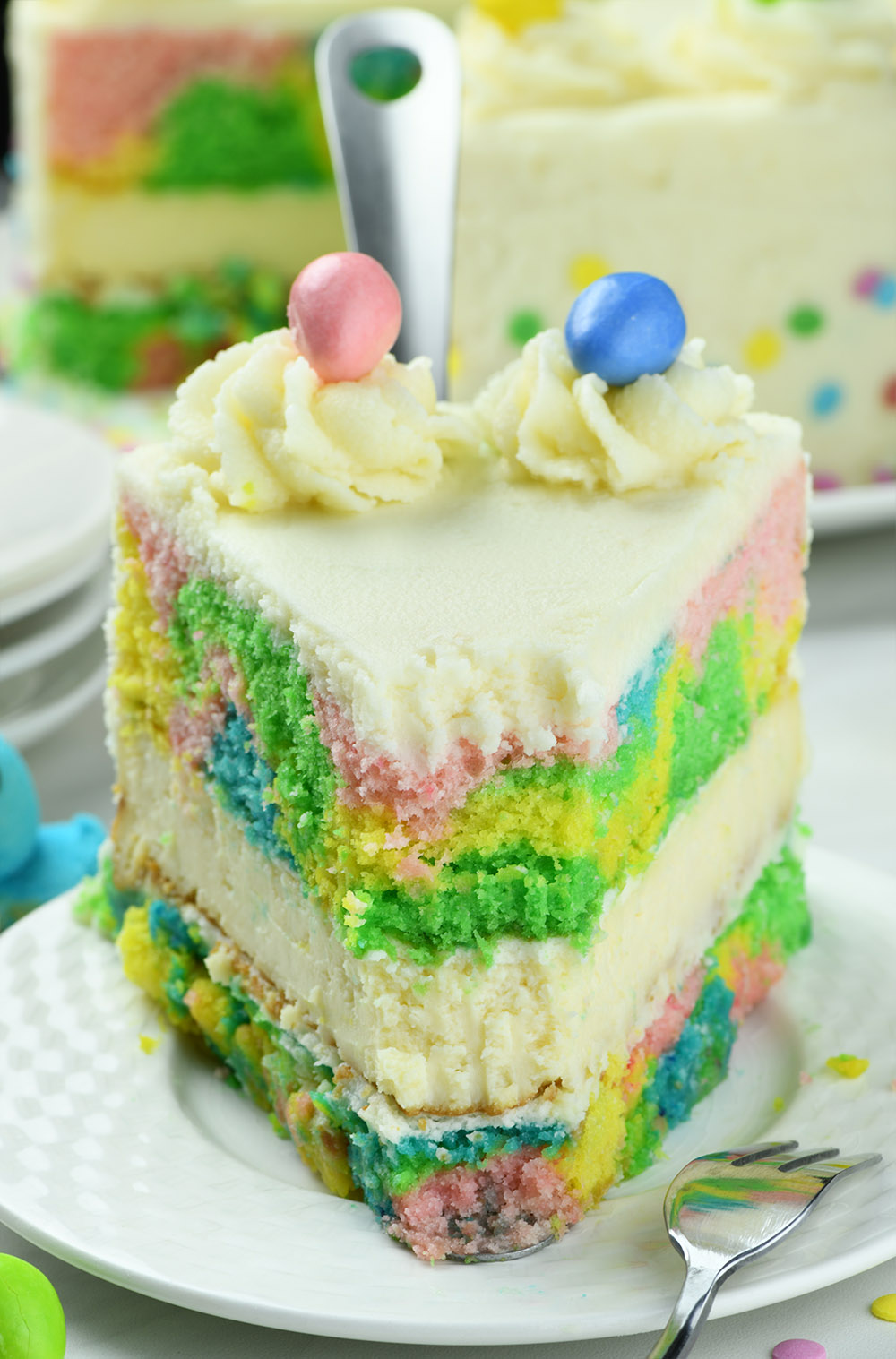 Perfect Make Ahead Easter Desert
Make the cake ahead and assemble and add the decorations close to it's debut at your party or special occasion.
The sponges taste even better after a day or two, so it's a great get-ahead recipe.
You should also keep the cheesecake layer in the fridge for at least a few hours before you assemble it. This is something you should consider when planning your baking.
You can prepare the cheesecake layers and cake layers up to a day in advance. Cool completely to room temp, then wrap in plastic wrap and place in the refrigerator overnight. Next day, make the frosting and assemble it.
Even after you've assembled the cake, it can keep in the fridge for several days.
No matter what kind of a meal we have, whether it's a huge party or just a small celebration with close family, it just isn't an Easter feast without a delicious (and pretty) Easter cake!
This cake is a great way to impress your family and friends at Easter.

---
Ingredients
White Chocolate Cheesecake
6

oz

. White chocolate-finely chopped

1/3

Cup

heavy cream

16

oz

. cream cheese-room temperature

1/2

Cup

Sugar

1 teaspoon

vanilla

2

Eggs slightly beaten

2 Tablespoons

Corn starch
Cake Layers
1

Mix of box vanilla or white cakes
Ingredients listed on the package (eggs. water. oil).
Food coloring (blue green, pink, yellow, and pink)
White Chocolate Frosting
7

oz

. White chocolate-finely chopped

1/4

Cup

heavy cream

1

Cup

Butter room temperature: unsalted butter

1 1/2 teaspoons

vanilla

1/4 teaspoon

Salt

3 1/2

–

4

Cups

Powdered Sugar

3 Tablespoons

Heavy cream, or more if necessary
---
Instructions
White Chocolate Cheesecake
Preheat the oven to 350 F.  Grease 8-inch springform pan with cooking spray and line the bottom with parchment paper. Cover the pan with aluminum foil.
Place 6 oz. Place 6 oz. of finely chopped white chocolate into a heatproof bowl
Heat 1/3 cup heavy cream until it boils. Then add the chopped chocolate. Let it cool for 2 minutes, then stir gently with a rubber spatula to melt the chocolate. Allow to cool slightly.
Mix softened cream cheese with sugar until smooth. Add corn starch. Mix in eggs and turn the mixer on low until combined.
Slowly add the melted white choco. Do not overmix.
Place the mixture in a pan. Bake the mixture for 50-60 minutes, or until it is set. If it begins to brown, you can cover the top with aluminum foil. Allow to cool to room temperature. Cover and place in the refrigerator to cool for at least 4 hours, or overnight. When you are assembling the cake, remove the ring from the springform pan.
Cake Layers
Pre heat the oven to the temperature listed on the box. Two 8-inch round cake pans can be greased with baking spray. Line the bottom with parchment paper and set aside.
Follow the instructions on the box to prepare the cake mix.
Next, divide the mixture in four equal portions. Add a few drops food coloring to each bowl and stir well.
Next, use a spoon to make small drops of each mixture in the bottoms of the pans. The drops will quickly spread so it is important to do this quickly. Drop one color at a time, leaving a few inches between each drop. Next, make drops with the second, third, and fourth colors until the bottom of your pans are covered. Next, add another layer of batter to the top. To avoid mixing colors, tap the pans on a counter. Use a toothpick to swirl the colors a little. You don't want to overmix the colors. Bake according to the directions on the box.
Once the cake layers are baked let them cool down for about 10 minutes. After that, transfer them onto a rack and let it cool completely.
White Chocolate Frosting
When the cheesecake and cakes are completely cooled, it is time to make the frosting.
Place finely chopped chocolate in a double boiler. Heat until smooth. Gently stir in ¼ cup of heavy cream and set aside to cool to room temperature.
Blend softened butter, vanilla and salt until light, fluffy Slowly add the melted white choco while you continue to mix on low. Gradually, add half of the powdered sugar. The mixture should be thick. Mix 3 Tablespoons of heavy whip cream into the mixture and stir well. Gradually, add remaining powdered Sugar. You can add more heavy cream if the frosting is too thick to spread. If it's too thin add more powdered sugar.
Assembling your cake:
Place one layer of cake on a plate.  Spread a thin layer icing over the cake. Add white chocolate cheesecake. Cheesecake can be very tender.
Spread a thin layer with frosting on the cheesecake. Then, top it off with the second cake layer. Frost the entire cake. Decorate the cake with Easter egg candies or confetti. Place in the fridge until ready for serving. Allow the cake to cool at least one hour before cutting or serving.
Remaining food can be kept in the refrigerator.
Notes
You will need to chill the cheesecake layer for a while before you assemble the cake. You can also make the cheesecake layer and cake layers a day in advance. Cool completely to room temp, then wrap in plastic wrap and place in the refrigerator overnight. Next day, make the frosting and assemble it.