This is simple and healthy Pico De Gallo ChickenIt's simple and delicious! If you're a fan of juicy chicken with a little bit of heat, you'll love this baked chicken recipe.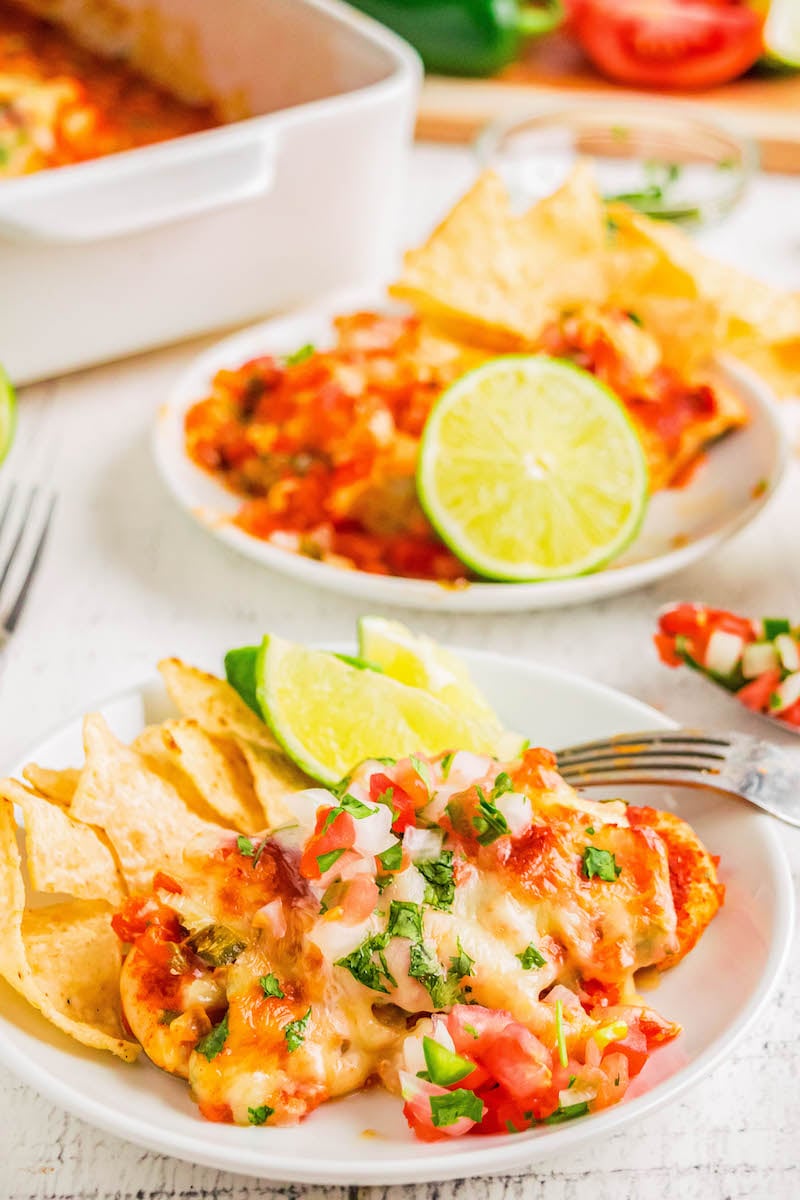 A simple Mexican Chicken Dinner
Pico De Gallo Chicken is a delicious chicken dish that you should try. Regular baked chicken is always a treat, but why not spice things up – pun intended – with a little homemade salsa fresca?
These chicken breasts are seasoned with taco seasoning, topped with fresh pico de gallo, and smothered with gooey cheese. Sounds delicious, right? I'm here to tell you it definitely is and, seeing as you can put it all together within 30 minutes, this Mexican-style chicken is a great quick dinner option.
This is one of our favourite easy and healthy dinner recipes, with less than 400 calories per serving. You can serve it with any side, but I like to have it over cauliflower rice, especially when I'm trying to be healthy.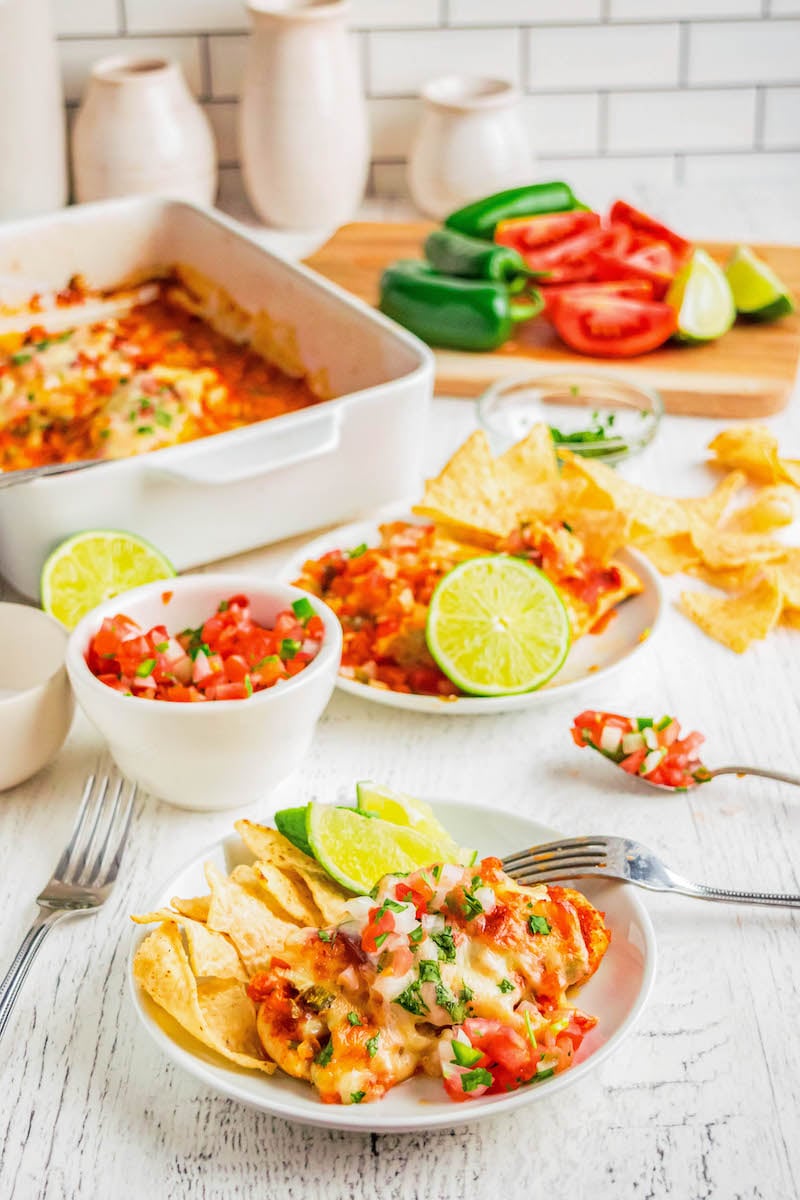 Prep Time 10 minutes
Cook Time 20 minutes
Total Time: 30 minutes
Ingredients:
For the Chicken
4 large boneless, skinless chicken breasts
2 teaspoons taco seasoning
Juice of half the lime
2 cups fresh pico de gallo
1 1/2 cups shredded Monterey Jack cheese (or mozzarella)
Optional Garnishes
fresh cilantro
limes
avocado
Sour cream
Instructions:
Preheat the oven to 400 ̊F. Spray a large baking pan with nonstick spray.
Place chicken breasts in an even layer on a baking dish. Sprinkle lime juice over the chicken breasts
Mix chicken breasts with taco seasoning.
Sprinkle cheese down the middle and cover chicken with pico De Gallo.
Bake the chicken for 20-24 minutes until it is cooked through.
the chicken breasts reaches 165°F.
Serve immediately with your garnishes
To make this dinner, you'll need only 6 ingredients! (If you've already assembled the homemade pico de gallo, that is.) Here they are:
Chicken breastsFor this recipe, I used four large boneless, skinless chicken breasts.
Taco SeasoningYou can either use store-bought taco seasoning or make your own. homemade taco seasoningI have been using recently.
Lime Juice: you'll only need the juice of half a lime.
Pico De Gallo: I prefer to make my own fresh homemade cookies Pico De GalloIt gives the chicken the most flavor. You can also use store-bought chicken in a pinch. To spice up store-bought, I often add a little more fresh lime juice or cilantro.
Monterey Jack Cheese: shredded. If you prefer, you can also use shredded mozzarella.
Optional GarnishesFresh cilantro, limes, avocados, and sour-cream are all delicious.
How to Make Pico De Gallo Chicken
It's easy to prepare the rest of the meal once the pico de gallo has chilled in the refrigerator. Simply season the chicken breasts and add the pico de gallo, cheese, and bake the pan. Then, wait for your guests to enjoy the meal!
For the chicken
Prep: Preheat the oven to 400 ̊F. Spray a large baking pan with nonstick spray.
Season Chicken Breasts: Lay the chicken breasts in an evenly spaced layer in a baking dish. Add lime juice to chicken breasts. Sprinkle taco seasoning evenly.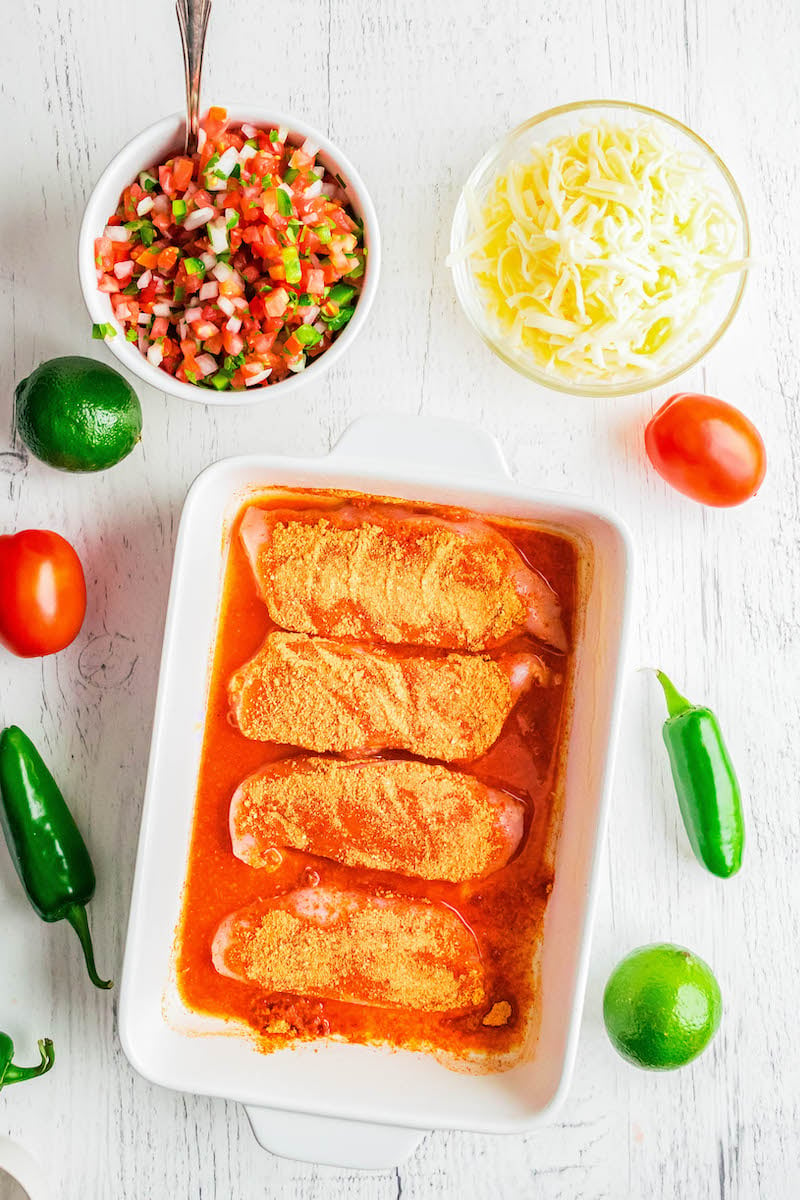 Top with Pico Del Gallo: Spread pico de Gallo on top of the chicken and sprinkle cheese in the middle.
Bake Chicken: Bake for 20 to 24 minutes, until the chicken is cooked through and the center of the chicken breasts reaches 165°F.
Serve and EnjoyServe immediately with your garnishes
For the pico de gallo
Making your own Pico De Gallo is so easy, and it's incredibly delicious and tangy too! Be sure to pick the ripest Roma or cherry tomatoes that you can, and let the whole mixture marinate for at least 30 minutes before making the chicken – the flavors are more pronounced this way. Make sure to save some pico for dip chips!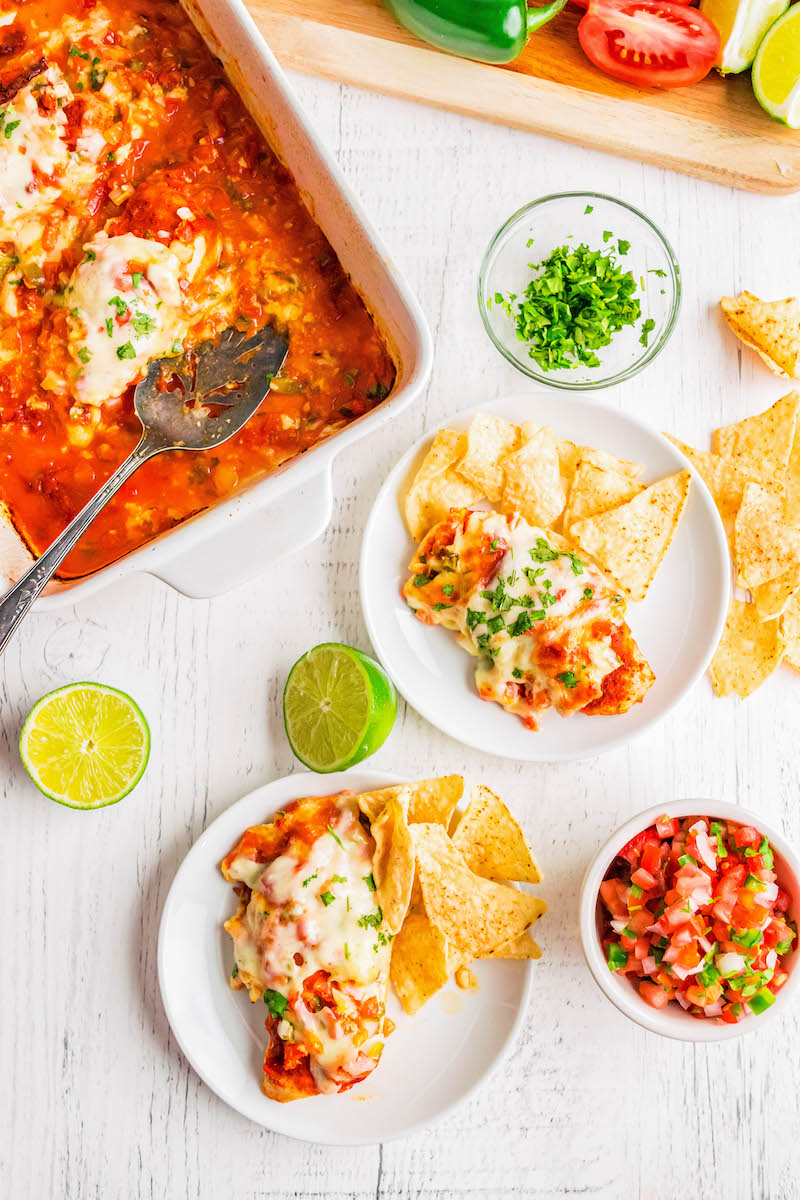 Tips for the most tender chicken
So, as you can see, this baked chicken is totally doable – even on a busy weeknight. These are some tips to help you get the best results from this recipe.
Pico De Gallo SubstituteYou can substitute salsa in pinch, but fresh pico gives you the best flavor and texture.
What Kind of Chicken Should You Use?: I used boneless, skinless chicken breasts, but you can definitely use chicken thighs or tenderloin – change cooking time accordingly, though. (With thicker chicken you'll need to cook a little longer. Reduce the cooking time for thinner cuts.
Substitute for Taco Seasoning: You can also season the chicken with a little salt and pepper instead if you don't want to use taco seasoning.