This easy homemade Spanish Rice recipe takes less than 30 minutes to make and a few simple ingredients. The rice is delicious with an authentic flavor. It's great as is or best served with chicken, beef or anything!
Ingredients:
2 cups white rice
1/4 cup butter
1 yellow onion, chopped
1 clove garlic, minced
2 cups boiling water
1 teaspoon chicken bouillon powder
1 teaspoon sugar
1 teaspoon salt
1/4 teaspoon ground white pepper
10 ounces fresh tomatoes, cut into quarters
4 pieces, bay leaves
Instructions:
Rinse and drain the rice, set aside.
Melt the butter in the saucepan on medium heat. Add onion, garlic and rice to the saucepan; keep stirring until aromatic and lightly brown.
Add boiling water, chicken bouillon powder, sugar, salt and ground white pepper, stir well. Next, evenly place the tomatoes and bay leaves on top of the rice.
Reduce the heat to low and simmer the rice with the lid on for 20 minutes until the rice becomes tender.
Remove the bay leaves and stir lightly to loosen up the rice. Serve immediately.
Spanish rice, also known as Mexican rice, is a quick and easy side dish recipe made with white rice, minced garlic, chopped onion, tomato (or tomato sauce) and a handful of spices.
Simply make the rice with other ingredients in one pot and you will get the most flavorful and authentic meal in less than 30 minutes. It is quick, easy and sinfully delicious.
Spanish rice is delightful to enjoy with beef, chicken fajita, or fish as a side dish and it also makes a mouthwatering filling for homemade tacos or burritos. If you are a fan of Mexican rice, this is a must-try.
WHY THIS RECIPE WORKS?
This one-pot recipe will save you a lot of time on preparing and cleaning. Throw everything in a pot and make a quick dinner in less than 30 minutes. It is the perfect recipe for busy moms and anyone who loves easy and quick recipes.
The ingredients of this recipe are easy to be found from your local grocery stores and substitutions are available.
It is freezer-friendly and good for big portions.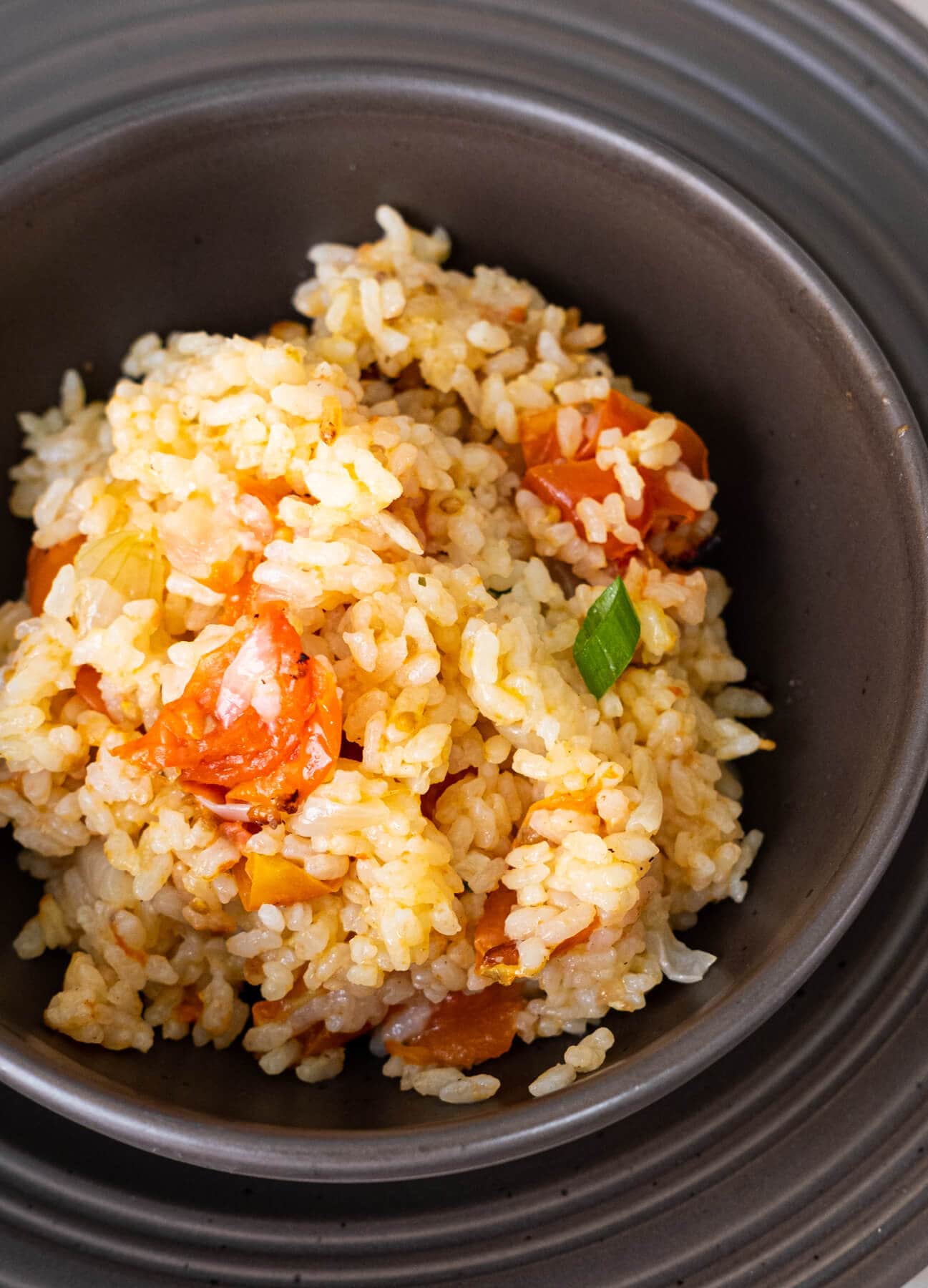 First, melt the butter in a saucepan and toss onion, garlic and rice until brown.
Then, add the rest ingredients to the pot. Reduce the heat and simmer the rice for 20 minutes with the lid covered.
The meal is ready once the rice is tender, fluffy and soft. Remove bay leaves and give the rice a light stir. Serve immediately.
COOK'S TIPS
For the best result, please follow my tips below:
Cooking Spanish rice with tomato sauce or tomato paste is also a good substitute for fresh tomatoes. If using tomato sauce instead of fresh tomatoes, add one can of tomato sauce (about 8 oz) to the rice. If using the tomato paste, you will only need 1 to 2 tablespoons.
Follow the instruction on the pack of the rice you are using. This recipe is made with short-grain white rice, so it is cooked with two cups of boiling water (or chicken broth). If using long grain rice, you may cook two cups of rice with four cups of boiling water.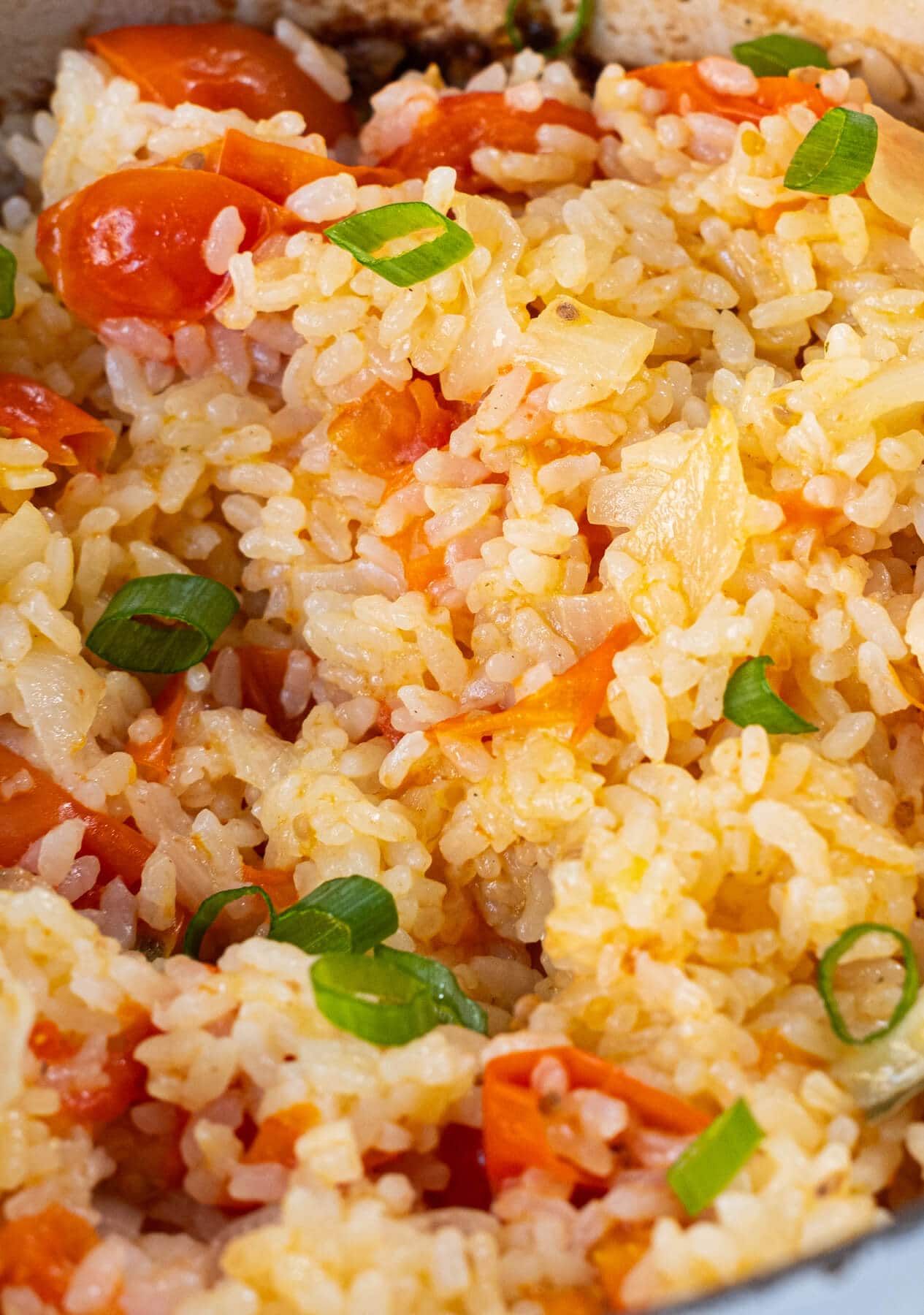 FREQUENTLY ASKED QUESTIONS
CAN I MAKE SPANISH RICE WITH BROWN RICE?
Yes, making Spanish rice with brown rice is a great option. Always follow the instruction on the pack when cooking the rice for how much water and how long to cook.
HOW TO STORE THE SPANISH RICE?
Store leftover Spanish rice in an airtight container and refrigerate it for 3 to 5 days for the best taste. It can also be stored in the freezer for up to 3 months. To reheat, microwave the rice or heat in a saucepan for a couple of minutes with a little bit of chicken broth or water to moisten the dish.