Light, buttery, and crumbly cookies that are dipped in chocolate and decorated using chopped hazelnuts. These vegan gluten-free butter cookies should be tried!
Ingredients:
To decorate:
150g dark chocolate, melted
Chopped hazelnuts
Instructions:
1. Preheat your oven to 180C/160C fan.
In a bowl, combine the flour, sugar, and salt. Mix the butter until it forms a creamy mixture. Add in the vanilla extract and milk.
Transfer the dough into a piping bag using a large star-nozzle and form the cookies onto a baking sheet lined in baking paper.
Bake for 15 minutes, then let cool completely.
After cooling, dip each cookie in the melted chocolate half-way, then place them on a baking sheet lined by baking paper. Sprinkle chopped hazelnuts over top.
To allow the chocolate to set, place in the refrigerator for between 15 and 30 minutes
Enjoy!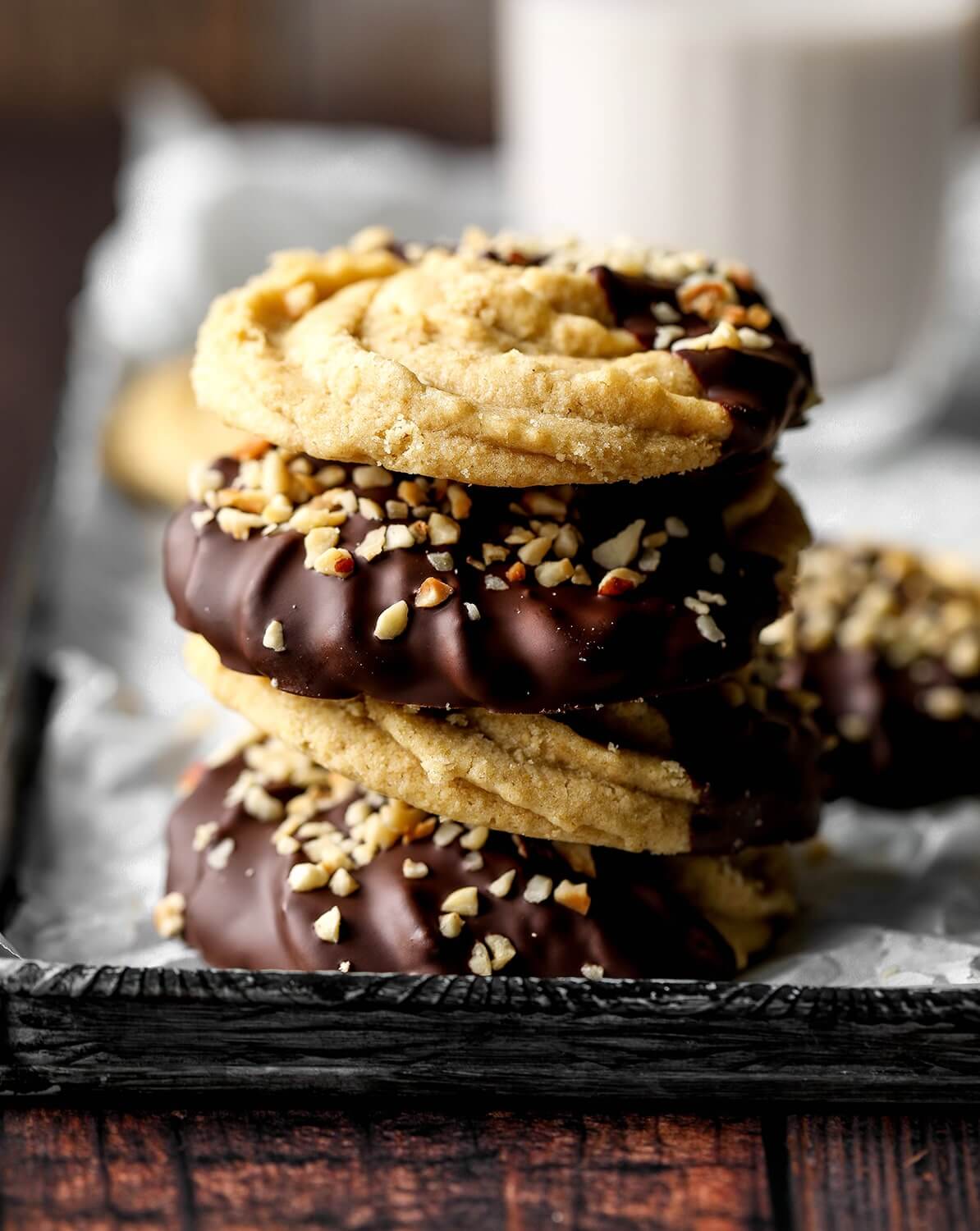 These vegan gluten-free butter cookies were perfect for Christmas. I dipped the cookies in matcha white and chopped pistachios. I couldn't resist making a dark chocolate version and decorated it with chopped hazelnuts. We can all agree that chocolate + hazelnuts makes the best flavour combination.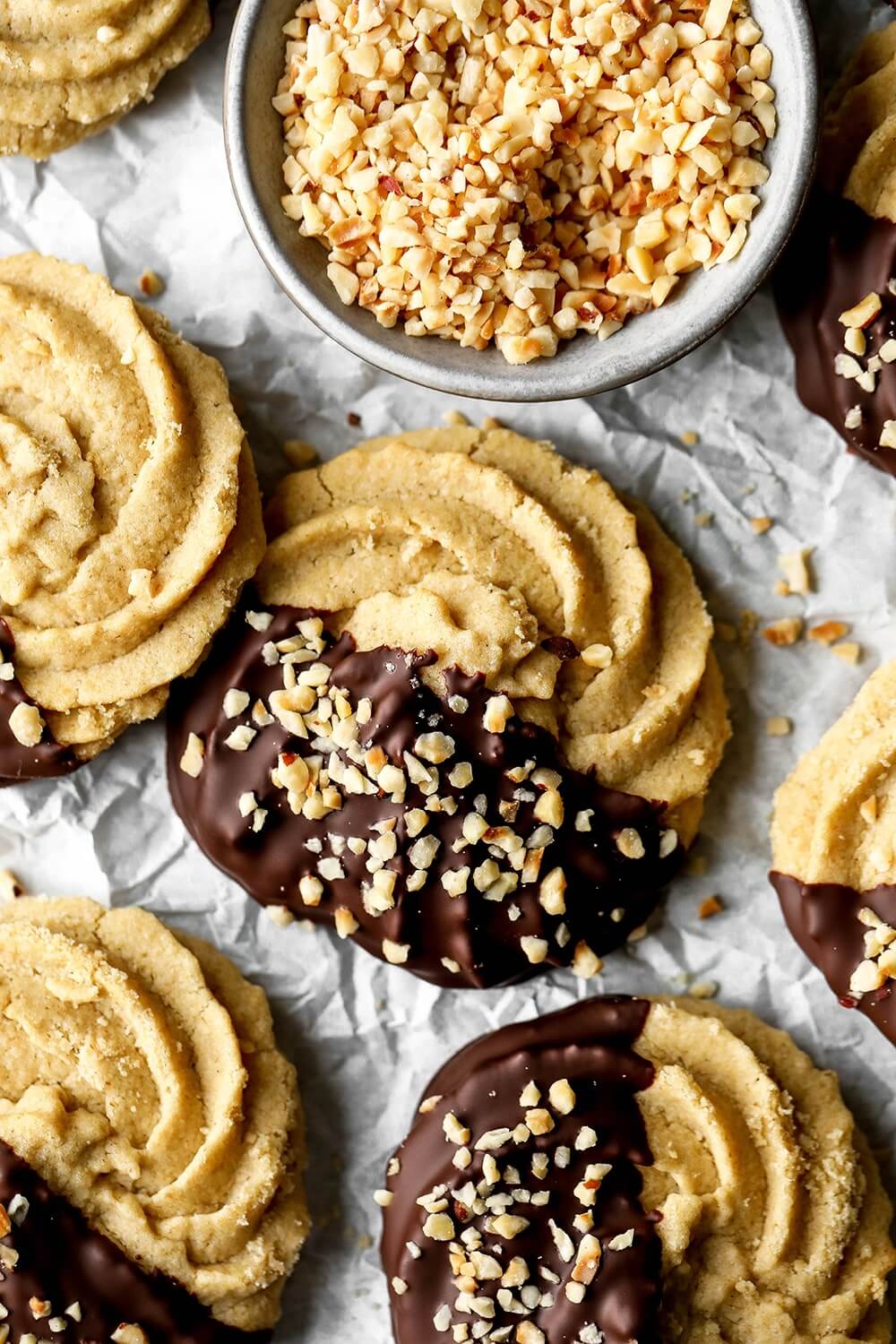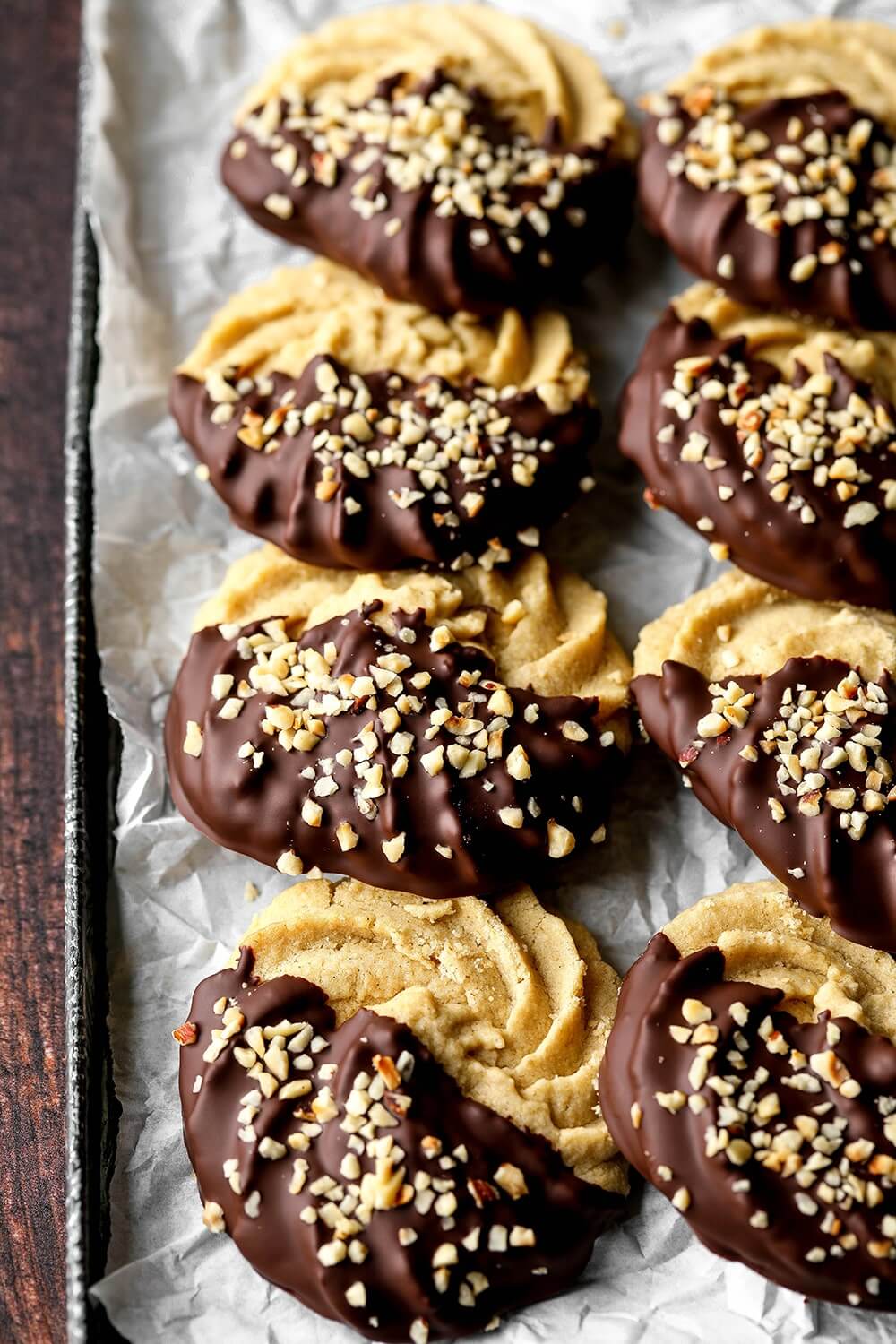 These cookies are definitely more indulgent than my usual treats. Butter cookies are a very rich treat.), and sugar too, so they're not healthy in any shape or form. They are vegan and gluten-free, making them ideal for people with dairy or gluten allergies. You can also make them nut-free by omitting hazelnuts. They're basically an indulgent treat to enjoy every once and a while for people who can't eat regular butter cookies.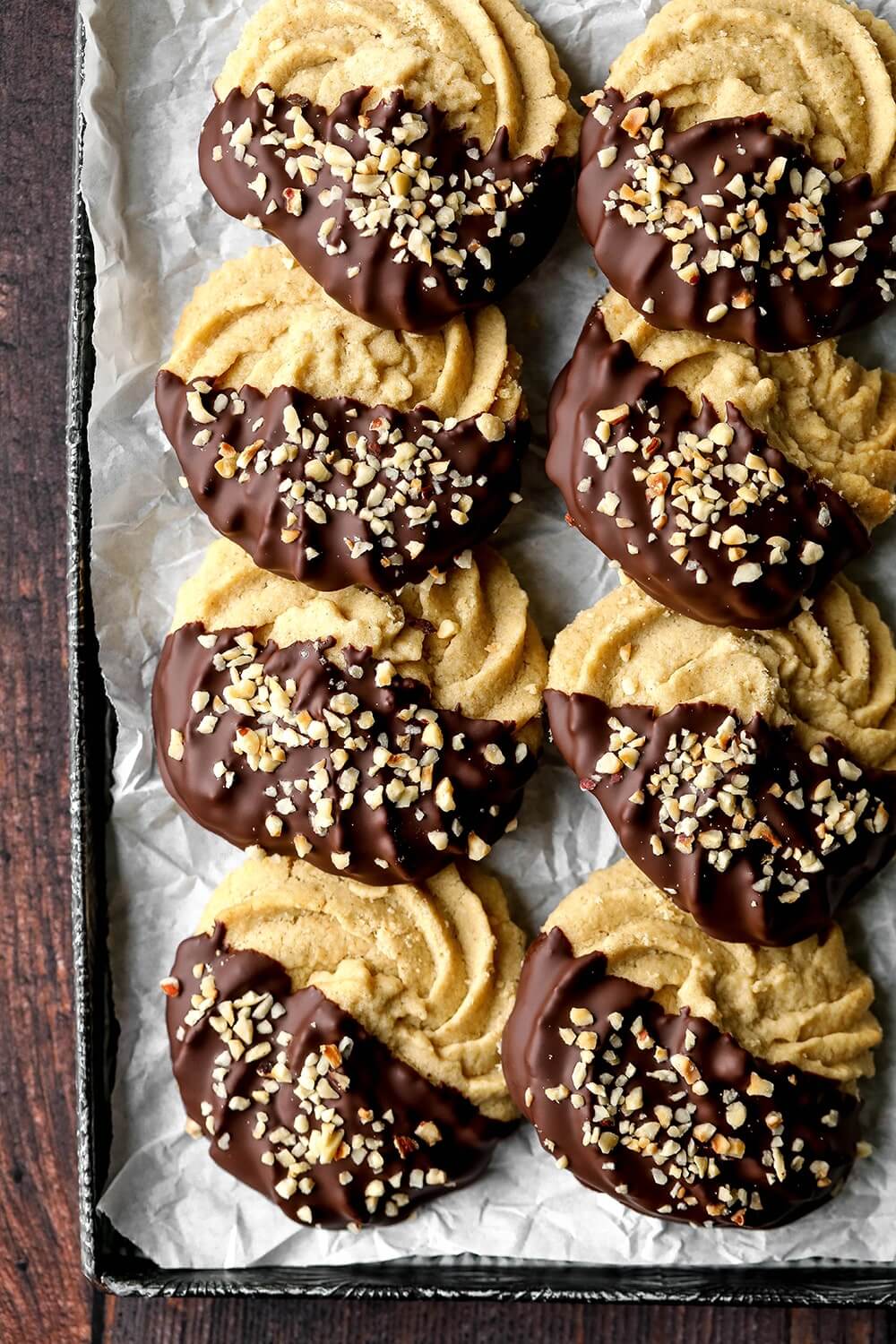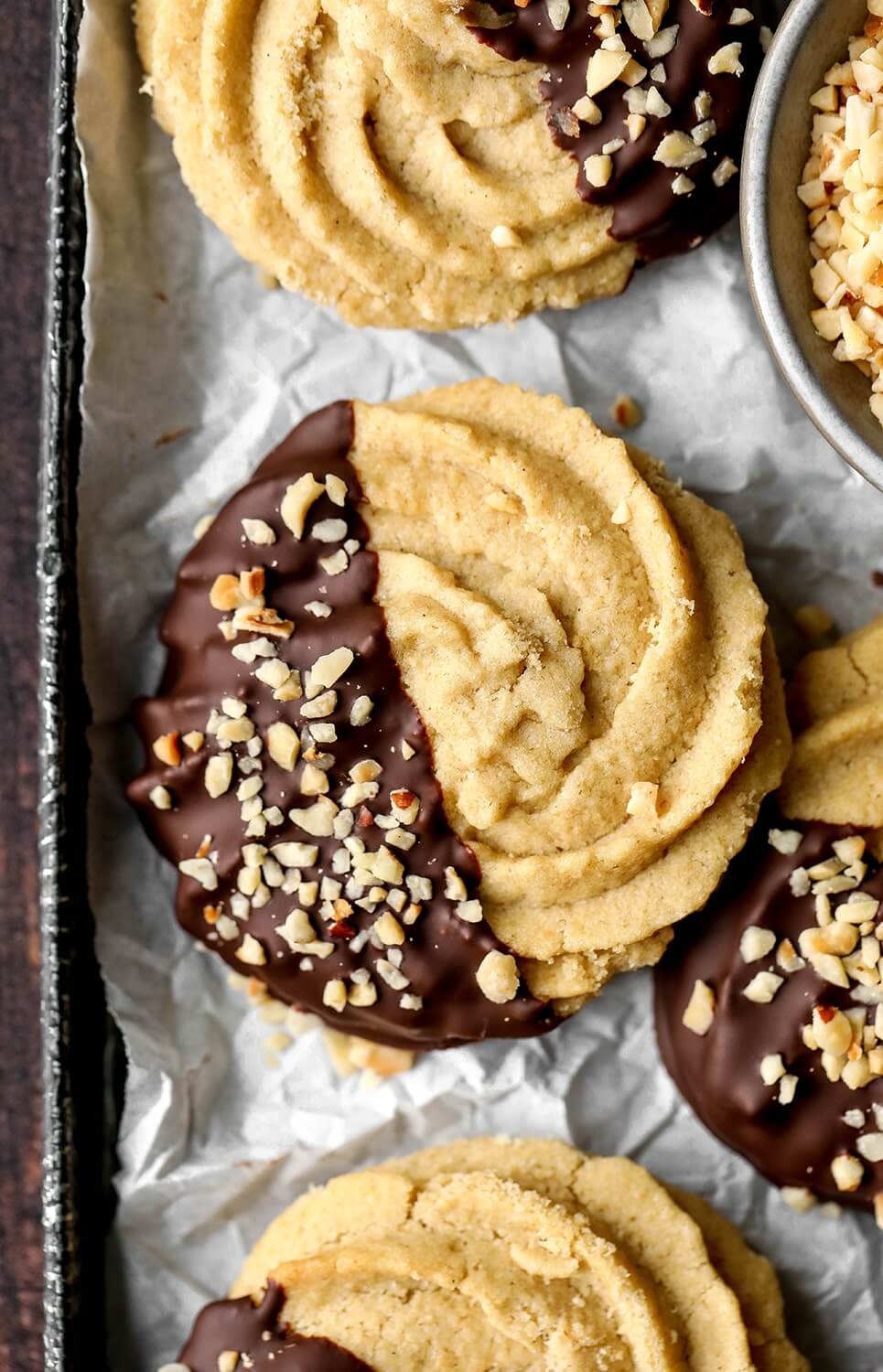 Notes:
I used a large, curved star piping tip. You can also use a smaller one to make smaller cookies. You'll need to reduce the bake time to 10-12 minutes depending on the size of the cookies. Cookies taste best when kept in the fridge. The texture holds a lot better if you're not serving them all on the day of baking.
I find that refrigerating the cookies for 15 mins before dipping them into the melted chocolate makes the chocolate set up faster and prevents the cookies frothy.